30 years are enough! Revolution and Socialism!



Demonstration against Fashism and War
7th March 2020 / Zwickau
Start 2pm
Memorial against Fashism at the Schwanenteich
Final rally 3:30pm
Hauptmarkt
Speakers will be: A representative of the FDJ, an apprentice and others
General programm:
Artistic Presentations include…
… a Trabi lying on ist roof
… the world renowned Hyena by John Heartfield as a greedy German
… Imperialism on the floor of the Trabi
… with Martin Luther in a German Flag on the bonnet
… the greater German reactionaries
… Songs against fascism, war and liberation
… with a W50, emblasened with the words:
"Let us be realistic and attempt the impossible"
Ché Guevara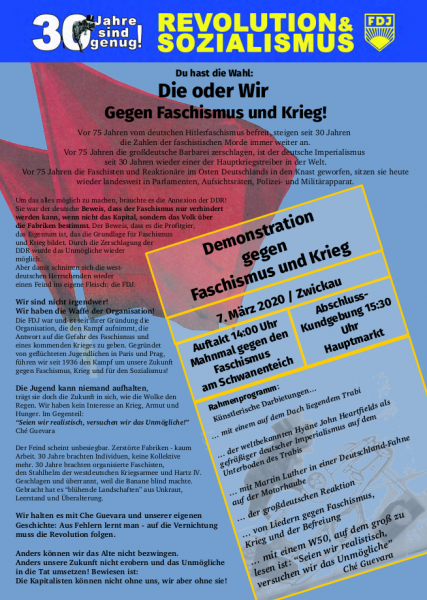 To prevent fascism, we must topple capitalism!
Erfurt, 5th feburary: a farce. The fascists of the AfD escort thomas Kemmerich, who had actually already stepped back, to the post of minister president. Planned and executed hand in hand with the right wing block of the civic camp, the CDU.
Thüringen writes history. Already in 1924 the fascists carried the right wing civic "Thüringer Ordnungsbunt" into gouvernmernt. Non-conforming teachers were stripped of their posts, the Bauhaus fled to Dessau and the NSDAP nurtured itself in this same Thüringen until they could post their first fascist minister in 1930.
Civic Democracy fell apart and is doing so again. The outcrie appears great, while the Downfall, the emergency status of the Republik, has been going on for 30 years.
No, we did not have to experience this farce, it was in our hands. The wheel of history was handed to the workers and the youth 75 years ago – the red army of the soviet union gave the workers and youths in this country the possibility "to build themselves a good life under their own leadership" (Bertold Brecht).
He who lets the wheel of history be taken back out of their hands will harvest the old wheel of those long dead. The old wheel, Germannes and Co, was already returning at the time of the German Democratic Republic (DDR). The foundations would have been there to never again permit the old greater Germany return. In spite of their antifascism, which we must hold high, the old voice grew ever louder, until the old fascists and the new could conquer the DDR 30 years ago. They did not hesitate.
As the FDJ, founded 1936 in exile against German fascism, we greet every demonstration against fascism – but we call for even more necessary immediate resistance which does not end on the sofa.
To end fascism, we must topple capitalism!
Stations of the campagne in Zwickau:
6th march:
Berufsschule "August Horch" 6:30 - 10:00 am
Union Hall 1:30 pm
Hauptmarkt 3:30 pm
7th march
Demonstration
Memorial against fascism 2 pm
Hauptmarkt 3:30 pm

solidarity address on the 70th anniversary of the GDR - Workers Party Youth Ireland
Comrades,
Workers Party Youth (Ireland) sends warm greetings and solidarity to the Freie Deutsche Jugend (FDJ) on this occasion, the 70th anniversary of the foundation of the German Democratic Republic (GDR)Today it is a most troubling time for socialist youth in eastern Germany. The re-emergence of fascism in recent years owes its success to the joint actions counter-revolution and imperialism of the Federal Republic of Germany.Workers Party Youth salutes the FDJ in these trying times. We ask our comrades in the FDJ to continue to struggle for the overthrow of capitalism and the construction of the new socialist and communist society. We send our best wishes and solidarity to the FDJ and the progressive youth of annexed German Democratic Republic.
In comradely solidarity,Joshua Brady-Arnold Treasurer
Workers Party Youth Ireland

Genossen,
die Jugend der Arbeiterpartei (Irland) sendet der Freien Deutschen Jugend (FDJ) anlässlich des 70. Jahrestags der Gründung der Deutschen Demokratischen Republik (DDR) herzliche Grüße und Solidarität. Die Zeiten sind heute für die sozialistische Jugend in Ostdeutschland sehr beunruhigend. Das Wiederauftreten des Faschismus in den letzten Jahren verdankt seinen Erfolg den gemeinsamen Aktionen Konterrevolution und Imperialismus der Bundesrepublik Deutschland. Die Jugend der Arbeiterpartei grüßt die FDJ in diesen schwierigen Zeiten. Wir fordern unsere Genossen in der FDJ auf, weiterhin für den Sturz des Kapitalismus und den Aufbau der neuen sozialistischen und kommunistischen Gesellschaft zu kämpfen. Wir senden der FDJ und der fortschrittlichen Jugend der annektierten Deutschen Demokratischen Republik unsere besten Wünsche und unsere Solidarität.
In kameradschaftlicher Solidarität,
Joshua Brady-Arnold Schatzmeister Jugend der Arbeiterpartei Irland

Article for the CENA-Bulletin of the World Federation of Democratic Youth
CENA Bulletin - October 2019
Our article for the CENA-Bulletin of the World Federation of Democratic Youth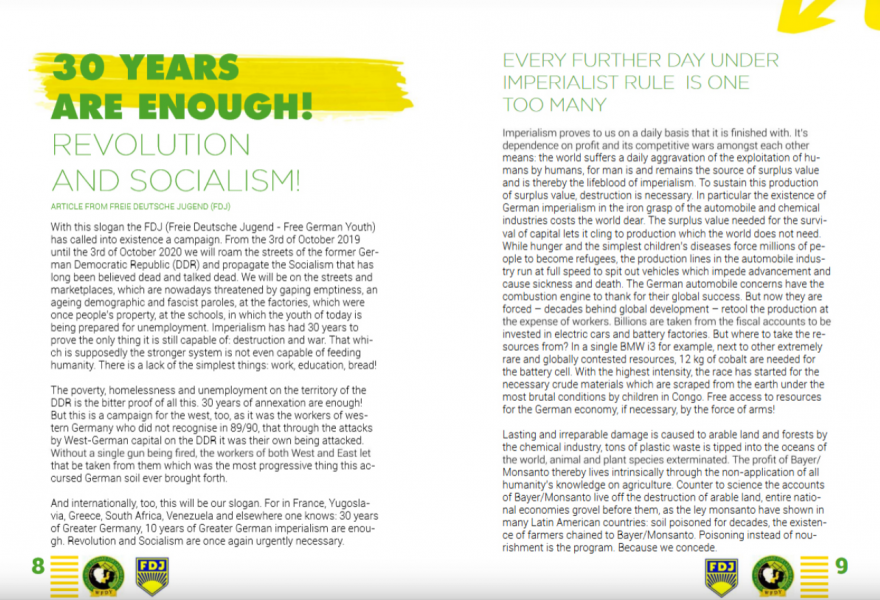 ¡30 años son suficientes! ¡Revolución y socialismo!
3 de octubre del 2019. Al que nos creyó muertos, le decimos que estamos vivos. El que pensaba que estábamos desaparecidos, debe saber que nunca nos fuimos. Al que pensaba que éramos parte del pasado, le respondemos que somos el futuro. El que no quería saber nada de todo esto, debe tener presente que desde el 3 de octubre de 1990 no ha pasado ni un solo día en el cual la bestia, que con el robo de la RDA también forjó un arma contra sí misma, no se haya encontrado a un oponente que no se va a cansar. Quien empuñó el arma fue una organización que con la anexión de la República Democrática Alemana se convirtió en lo que el imperialismo jamás soportará: la existencia de un internacionalismo constituido por una organización de dos países. La juventud revolucionaria de la RFA y la juventud revolucionaria de la RDA.
La Juventud Libre de Alemania (FDJ), fundada como unión de la juventud revolucionaria en 1936 en contra del fascismo de Hitler, explica y comienza su campaña (de un año):
¡30 años son suficientes! ¡Revolución y socialismo!

30 years are enough! Revolution and Socialism!
30 years have passed since the open counter revolution in the German Democratic Republic and the annexation of the country by German imperialism. 30 years since the temporary defeat of socialism and of the workers' movement in large parts of the world became obvious. 30 years in which imperialism has once again ruled, exploited and plundered the world uninhibitedly, waging wars everywhere… it is time to begin the counteroffensive!

On the anniversary of the annexation of the GDR, the Free German Youth launched a campaign with the motto "30 years are enough! Revolution and Socialism!" In our opinion this does not only apply to Germany, but should become the fighting slogan for the learning and working youth in every country of the world.